Back to Table of Content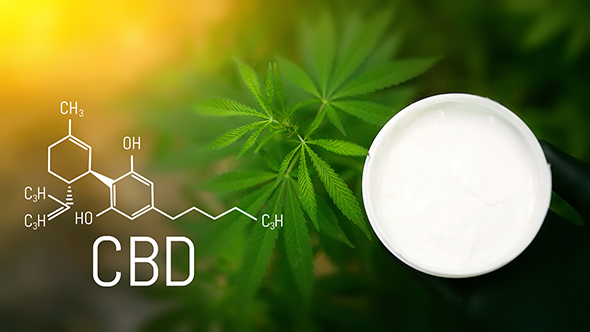 The global beauty industry is a 532 billion USD business. The United States is the biggest market and holds about 20% of the share, or about 106.4 billion USD. Cannabis is one of the fashionable ingredients in beauty. It is a trend imported from the United States, the first country in which it was legalized, which reaches Europe.
Cannabidiol (CBD) are subspecies of cannabis plant phytochemicals. The hemp used for beauty is high in CBD, a natural compound with excellent nutritional and medicinal properties. It does not have of course any psychotropic effect and it has been discovered that it has beneficial properties for the skin. A natural ingredient, CBD, is ideal for skincare.
Powerful antioxidant: CBD is one of the largest free radical collectors and therefore very effective in protecting the skin from the harmful action that these produce on it.
Pain relieving: Thanks to its anti-inflammatory action, it helps to reduce skin irritations and infections, making it especially suitable for sensitive skin. Also recommended for skin prone to acne due to its sebum-regulating properties.
Moisturising: Rich in essential fatty acids, especially omega 3, CBD is a very nutritious active ingredient that regulates fat production, helping to maintain the hydrolipidic balance in the epidermis, thus maintaining water levels and correct hydration.
Relaxing: Its soothing and calming properties reduce stress effects to the skin which looks younger and with a more rested appearance.
Difference between Hemp, CBD and Marijuana
There are several key differences between Cannabis indica (hemp) and Cannabis sativa (marijuana). These include height and stature, internodal length, leaf size and structure, buds size and density, flowering time, odor, smoke and effects. Indica plants tend to grow shorter and bushier than the sativa plants. Indica strains tend to have wide, short leaves with short wide blades, whereas sativa strains have long leaves with thin long blades. The buds of indica strains tend to be wide, dense and bulky, while sativa strains are likely to be long, sausage shaped flowers.v/li>
Marijuana and CBD are not the same even if they both come from the same plant. CBD is a single, isolated compound in the cannabis plant, while marijuana contains many naturally occurring compounds, including delta-9-tetrahydrocannabinol (THC) and CBD.
The Cannabis plant contains over 80 biologically active chemical compounds (cannabinoids). However, the most known ones are THC and CBD. Different taxonomic classifications of the genus Cannabis vary in their THC and CBD content.
Cannabis indica contains a high THC content associated with marijuana hashish production, whereas Cannabis sativa has a high CBD content, traditionally associated with the textile industry, and more recently to applications within the cosmetic, food and pharmaceutical sectors. Unlike THC, CBD has no psychoactive effects.
How are Hemp and Other Extracts Used in Cosmetics?
There are several types of extract from hemp used in cosmetics:
Hemp seed oil: It is extracted by cold-pressing hemp seeds. Hemp oil is rich in properties that makes it a very effective moisturizer functioning as an emollient to soften and smoothen the skin. Hemp seed oil is high in essential fatty acids (omegas 3 and 6), polyunsaturated fatty acids (PUFAs) and other nutrients that keep the skin in a good condition.v
Hemp seed water: It is the aromatic water resulting from the steam distillation from hemp seeds. Hemp hydrosols are used as a base ingredient for face creams due to their moisturizing effect.
Other raw materials from hemp include by-products from production of hemp seed oil such as seedcake powder and seedcake, which may be used as abrasives, as well as derivatives such as potassium hempseedate, which can be found in soaps and handwashes, and ethyl cannabis seedate, which may be used as a naturally derived cyclopentasiloxane (D5) substitute.
Cosmetic Products
Many customers would be willing to jump ship for natural, clean and sustainable products. Replacing a few of daily beauty products with cannabis-infused cosmetics is just one of the many easy ways to incorporate it into daily life.
CannaCon, a conference organizer focusing on cannabis industry has summarized some sorts of products in its blogs. They stated that cannabis makeup is one of the hottest things in both the cosmetics and cannabis industries and combining the wellness of cannabis and CBD with the aesthetic of cosmetics is not just some fly-by-night-fad. Here are interesting products recently in the market.
CBD-infused face creams and serums: Given all the potential CBD has to offer skin, brands are infusing creams and serums with CBD to provide that extra glow. What makes CBD-infused face creams even more popular is its powerful moisturizing properties, which are beneficial for all skin types. When CBD is applied topically, it penetrates the skin-benefiting both the dermal and subdermal layers.
Cannabis-infused mascara: Mascara is traditionally made from beeswax. Cannabis can replace the beeswax, making it a vegan-friendly option. Since it is an oil, it helps condition and has also shown promising potential for promoting hair growth.
CBD-infused chapsticks, glosses, lip balms, lip scrubs and lipsticks: Antibacterial property helps protect while antioxidation property help repair sore and chapped lips. It can help reduce inflammation caused by cold-sores and minimize irritation. CBD helps lock in natural moisture, keeping lips soft.
Hemp-infused eyeshadow palettes: Hemp is packed with essential fatty acids like omega-3. Fatty acids help keep skin soft and healthy while also preventing signs of aging and sun damage. Around eyes is the most delicate skin.
Acne treatment: Cannabis has potent anti-inflammatory properties that show promising results in treating a plethora of skin ailments such as acne and psoriasis. Applying an anti-inflammatory to the skin is to soothe it and are likely to reduce the visible side effects of flare-ups. Cannabis helps relieve pain and irritation caused by these skin conditions. It also helps suppress breakouts by regulating oil produced by the sebaceous gland.
Anti-aging properties: Vitamins C and E were believed to be the strongest antioxidants, but multiple studies have shown cannabinoids to be stronger by up to 50%. Around the age of 20, collagen produced is decreased, and free radicals are also responsible for accelerating collagen breakdown. Antioxidants fight and help repair skin from these damaging free radicals, which may reduce fine lines and wrinkles.
Other products: Hemp seed oil can be found in products such as soaps, shampoos, hand creams and massage oils. Aside from skin conditioning, they can be used as well in hair products to condition the appearance and feel of the hair.
Article info
- Ana Ledesma. (2021, August 25). How are hemp and other Cannabis sativa L. extracts used in cosmetics?. The International Natural and Organic Cosmetics Association. https://www.natrue.org/how-are-hemp-and-other-cannabis-sativa-l-extracts-used-in-cosmetics/
- CannaCon. (2021, January 28). Cannabis and the cosmetic industry. https://cannacon.org/cannabis-and-the-cosmetic-industry/
- Virospack. (2020, May 27). Cannabis cosmetics, the latest in beauty. Cosmetics Business, HPCi Media. https://cosmeticsbusiness.com/news/article_page/Cannabis_cosmetics_the_latest_in_beauty/ 165704v